&nbsp
Built On Sand compilation album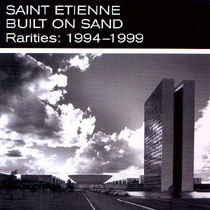 Built On Sand CD (CD)
Artist:

Saint Etienne

Label:

Release date:

December 1999 (fan-club only)

Catalogue numbers:

MNSTET1
Sleevenotes
The liner notes say:
Another five years, another collection of curios from the sublime to the sub-mental. The sound quality is a little variable, but for the obsessive fan these outtakes should provide a new insight into our sick English minds. Many thanks to Gerard, Russell, Frank and Dusty Kelly for helping us to get this show on the road.
Trivia
The building shown on the cover is a 20th century architectural icon.
---
You want this record? Well, here is the little advice I can proffer on finding recordings.
---
Next: How We Used To Live...
---
This page was last generated on Sat Jun 29 2002 by Anthony Bailey's mu-web Perl script

&nbsp TD>