&nbsp
Foxbase Alpha album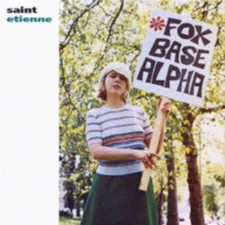 Foxbase Alpha vinyl twelve inch (a)
Also released as a white label promo, HVNLP1P

Foxbase Alpha CD (b)


Foxbase Alpha cassette (c)


Foxbase Alpha CD (German release) (d)


Foxbase Alpha vinyl twelve inch (US) (e)


Foxbase Alpha CD (US & Canadian release) (f)


Foxbase Alpha cassette (US and Canada) (g)


Foxbase Alpha CD (Japan) (h)
Sleevenotes
There are still plenty of real Londoners who sleep the night in London as well as work the day there - some in love, some in debt, some committing murders, some adultery, some trying to get on in the world, some looking forward to a pension, some getting drunk, and some holding up a new baby. This is about a few of them.

Norman Collins, London Belongs To Me, 1945.
June 4, 1989. It's a Sunday morning. The weather's not bad enough to be a downer, and in the hard, black economy, cash in your pocket puts a spring in your step. On the way into town, you can see London spread out before you: the tombstone skyscrapers of the City and Docklands, the winking lights of the Post Office Tower and Crystal Palace. In the distance, the hills.
Down in Camden, London is in your throat. The lowest point in the city, a sink for pollution, noise, destitution. But it's here that you find the raw material to make the world in the way that you hear it. Walking through congested streets and alleys, you're assaulted by a myriad of sounds, looks and smells from all over the world, each with its own memory and possibility.
How to make sense of this? Go with the flow, find what has been forgotten, put it together in a new way. Today's hauls are Mash Down by Roots and Bamba In Dub by the Revolutionaries, a battered single telling you how to convert LSD into decimal currency, a couple of Northern Soul compilations on Kent, overpriced UK psych singles on labels like Camp and Page One. The look is easy - wigs, turtlenecks and corduroys: the rhythms of the moment are playing non-stop in Zoom.
The idea is mental freedom: transformation of the familiar. Primrose Hill, Staten Island, Gospel Oak, Sao Paolo, Boston Manor, Costa Rica, Arnos Grove, San Clemente, Maida Vale, Studamer: Stay busy, out of phase, in love.
Jon Savage
Trivia
This album's highest UK chart position was #34
Highly subjective opinion
This album appeared at a time when there were a few bands around who sounded like they were living in an alternate pop history, a `60s and `70s that never was. Intastella's Intastella And The Family Of People and Quality Street by World Of Twist came out at about the same time, and there is an obvious kinship. (World Of Twist actually get a mention on London Belongs To Me.) This album is the jewel in said movement's crown, though. The packaging matches the perceived manifesto. The `70s girl on the sleeve is a fox, she's her own role-model, Jon Savage provides a quote on the back, and the inner sleeve is designed to be cut up into cards, each bearing the visage of some pop hero or other.

This Is Radio Etienne, Wilson, Etienne Gonna Die and Dilworth's Theme are the non-songs, filler if you are callous, atmospheric if you have any taste. Stoned To Say The Least is an instrumental and Like The Swallow veers into weird, ARKane-ish experimental territory.

The rest is pop, pure pop. Apart from the singles, we have Carnt Sleep, the mis-spelling surely a nod to the Happy Mondays' Squirrel and G-man... album that spelt it the same. Spring is quite probably the loveliest pop song they have ever done. For me though, Girl VII sums up the album. It has a wonderful spoken list in the style of Madonna's Vogue, but here rather than famous Hollywood stars we have a mantra of exotic locations juxtaposed with Northern stops from the London Underground. This whole album defines a time and a place for me in a way that no other record quite manages to achieve. It works a magic, and makes me like London in a quite irrational way when I hear it.

There, was that subjective enough?
---
You want this record? Well, here is the little advice I can proffer on finding recordings.
---
Next: He Is Cola...
---
This page was last generated on Sat Jun 29 2002 by Anthony Bailey's mu-web Perl script

&nbsp TD>