&nbsp
Goldie single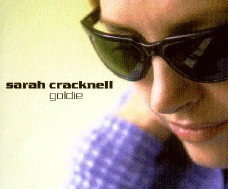 Goldie CD (CD)
Artist:

Label:

Release date:

21st April 1997 (unreleased in UK)

Catalogue numbers:

CD GUT 7


Goldie cassette tape (tape)
Artist:

Label:

Release date:

21st April 1997 (unreleased in UK)

Catalogue numbers:

CA GUT 7
Trivia
Availability works like this. This was intended as a UK single. Due to Sarah's commitments recording with Saint Etienne in Sweden and then touring with them in Japan, it was pulled. She and the record company aren't best of friends, and it unlikely to get reissued; officially, it was never released at all.

But... to fulfill import orders and so forth, some copies were sent out overseas before the decision was made. Some went to the States, some to Australasia, some to bits of Europe, all over, really. The Web-based CD companies got hold of a few copies too. Most copies were snapped up very quickly, and if you find a spare one anywhere you've been quite lucky.

There was another version released in some of Scandanavia. Whether this was a proper release or similarly pulled at the last moment I don't know.

The bottom-line is there is nowhere you can be sure of finding this now, and no way you can reliably order it. Treat it as you would a long-since deleted rarity.
---
You want this record? Well, here is the little advice I can proffer on finding recordings.
---
Next: Lipslide...
---
This page was last generated on Sat Jun 29 2002 by Anthony Bailey's mu-web Perl script

&nbsp TD>