&nbsp
Join Our Club single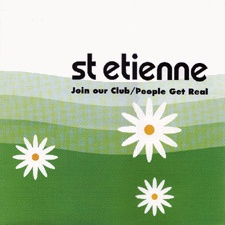 Join Our Club vinyl seven inch (a)
[03:20] Join Our Club
[04:45] People Get Real


Join Our Club vinyl twelve inch (b)


Join Our Club CD (c)


Join Our Club vinyl twelve inch promo (d)
[03:20] Join Our Club
[06:46] Join Our Club (chemically friendly zoom mix)
[??:??] Join Our Club (monty's stripped down dub)
Trivia
This single's highest UK chart position was #21
Highly subjective opinion
The a-side is the closest that the Etienne have ever got to handbag techno. It was released in the wake of Bob and Pete having alarming top ten success with 7 Ways To Love, credited to Cola Boy. Presumably the hope was to repeat that single's chart success. The hope was half-realised; the single charted respectably, but ironically it was their next two releases, the more traditional classic pop of Avenue and You're In A Bad Way, that did the business for them as regards high chart placings.

The aa-side, People Get Real, is the better song; a gorgeous bassy pop-thing it is.
---
You want this record? Well, here is the little advice I can proffer on finding recordings.
---
Next: Live - Paris '92...
---
This page was last generated on Sat Jun 29 2002 by Anthony Bailey's mu-web Perl script

&nbsp TD>